Knowit
WaveCrest provides ongoing marketing expertise for Knowit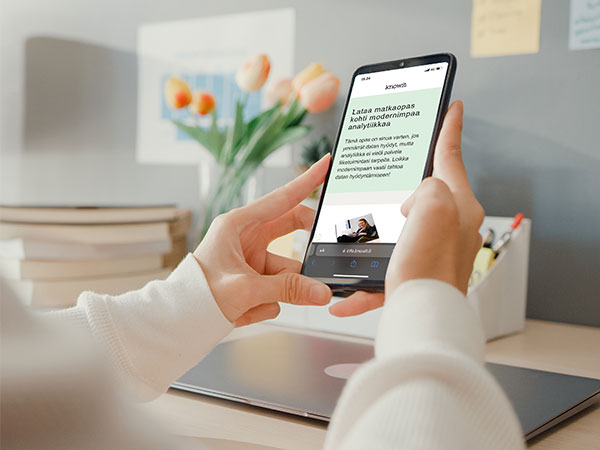 Knowit is a Nordic powerhouse for the digital solutions of the future. Their services are developed and delivered by four business areas: Solutions, Experience, Connectivity, and Insight. Knowit was established in 1990 and has more than 4000 employees in Sweden, Norway, Denmark, Finland, Germany, and Poland.
Marketing goals
Knowit and WaveCrest started their ongoing collaboration in 2020. WaveCrest helps Knowit in two areas in Finland: B2B marketing and Employer Branding (EB), mainly for their largest business area Knowit Solutions.
Both B2B marketing and Employer Branding aim at increasing Knowit's recognition in the Finnish market. Knowit also wants to be seen as a thought leader in certain areas, sustainability through technology, business and design being one of the main ones. B2B marketing efforts create direct leads for different business functions and develop the collaboration between marketing and sales for better results. On the Employer Branding side, the efforts focus on building an employer image that will entice potential employees in this time when the competition for talent is extremely tough.
inbound marketing with HubSpot
Through the years, WaveCrest has been involved in planning strategic marketing together with Knowit's internal marketing team. Knowit uses HubSpot's landing pages, automations and workflows for lead generation and sales acceleration. WaveCrest as a HubSpot expert provides HubSpot consultancy services and creates content for the lead process and for other inbound marketing purposes.
The content that WaveCrest helps create includes written content such as articles, reference cases, blog posts and downloadable guides; video content; graphic content such as infographics; podcast planning, production and marketing, and webinar and event marketing. WaveCrest also helps Knowit with social media and Google advertising.
The knowit team from wavecrest includes
Client manager
Content specialist
Creative designer
HubSpot specialist
Social media specialist
Google specialist
Event marketing specialist
ongoing collaboration
The ongoing collaboration produces constant new ideas for marketing and enables ongoing improvement. The team can be scaled up or down quickly when necessary. The best specialists are always available without having to keep them on payroll in-house. In addition to the standard monthly marketing efforts, Knowit can purchase specific competence on a project basis – such as help with the HubSpot setups.


"Over the few years we have worked with WaveCrest the cooperation has grown from utilising a few marketing professionals to utilising a team. I have been very pleased with the way WaveCrest has been able to react quickly to our changing needs. Also, "WaveCrestians" are really nice to work with, which is always a requirement for a smooth and evolving collaboration."
Jonna Ikonen, Head of Marketing, Knowit Solutions Oy
"The collaboration with WaveCrest has been and is a very invaluable asset of our Employer Branding work. Continuous cooperation helps us both learn to know each other and working together is smooth. WaveCrest helps us create new content continuously and to be seen in relevant channels to our target groups to attract the right talent for us."
Karoliina Heikkinen, Head of Talent Acquisition & Employer Branding