Recover
Recover's Culture Book concretises the journey of unification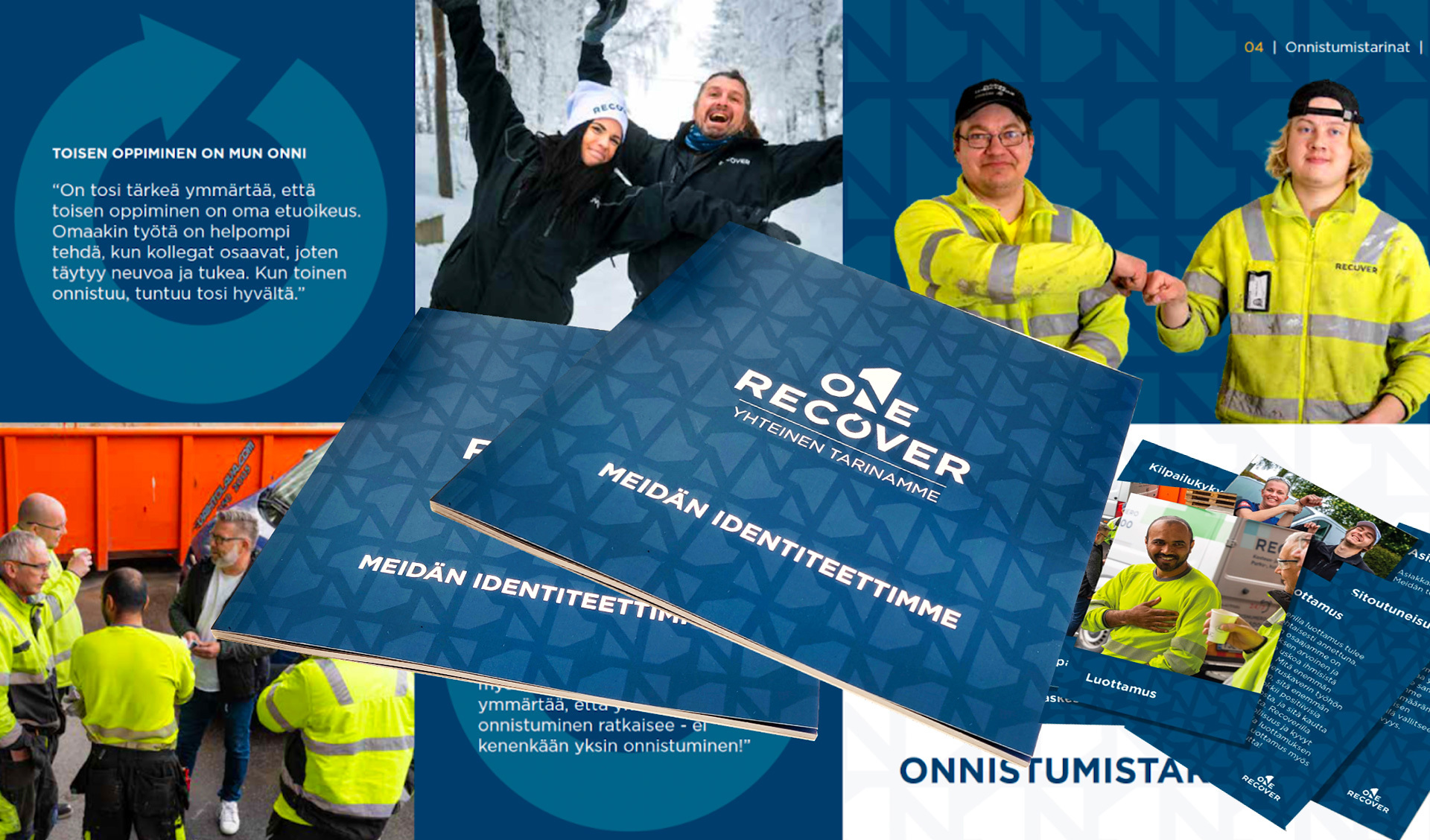 Services provided
Formulating the key messages in the One Recover employer image

Producing a content concept and visual look for a culture book

Planning and implementation of internal campaigns and launch events

Utilising the visual look done in customer marketing
Objectives
WaveCrest's partner company Choice HR is Recover's partner for recruitment, personnel and employer marketing. WaveCrest carried out an internal marketing project for Recover with the goal of creating a unified internal and external "One Recover" employer image and concretising the company's vision, mission, values and culture first to staff and then outward.
What was done
In workshops with Recover, WaveCrest conceptualised and formulated the key messages of the transformation journey leading to the One Recover identity. Based on these, we produced the visual look of the One Recover identity. The One Recover logo already existed but is now being introduced more widely. Based on the One symbol, a pattern was developed that can be widely used e.g. in different backgrounds.
Based on the workshops, WaveCrest designed a content concept for the so-called Culture Book in addition to the look. In practice, much more than culture is involved, as the book communicates the brand to all target groups. The text content of the books was created by WaveCrest based on in-depth interviews with management and employees. The book was illustrated with both drawings and pictures of real Recover employees. No stock images were used.
The Culture Book works in both physical and digital versions. The text is in small snippets, so that the book entices to browse it. Any snippet of text also works when read individually.
In addition to the Culture Book, WaveCrest designed and implemented internal campaigns and launch events for the One Recover identity.
The visual look has also been utilised by WaveCrest in customer marketing, e.g. in the customised Wheel of Fortune, launched in an industry event.
Results
The acclaimed Culture Book is a concrete output from a journey of change towards a common One Recover identity. The collaboration that began with Choice HR's identity project has continued into customer and B2B marketing as well as events and content.
One for all and all for one. Welcome to a journey with a common goal.
- One Recover