Nivea
Nivea promoters sell and handle visual merchandising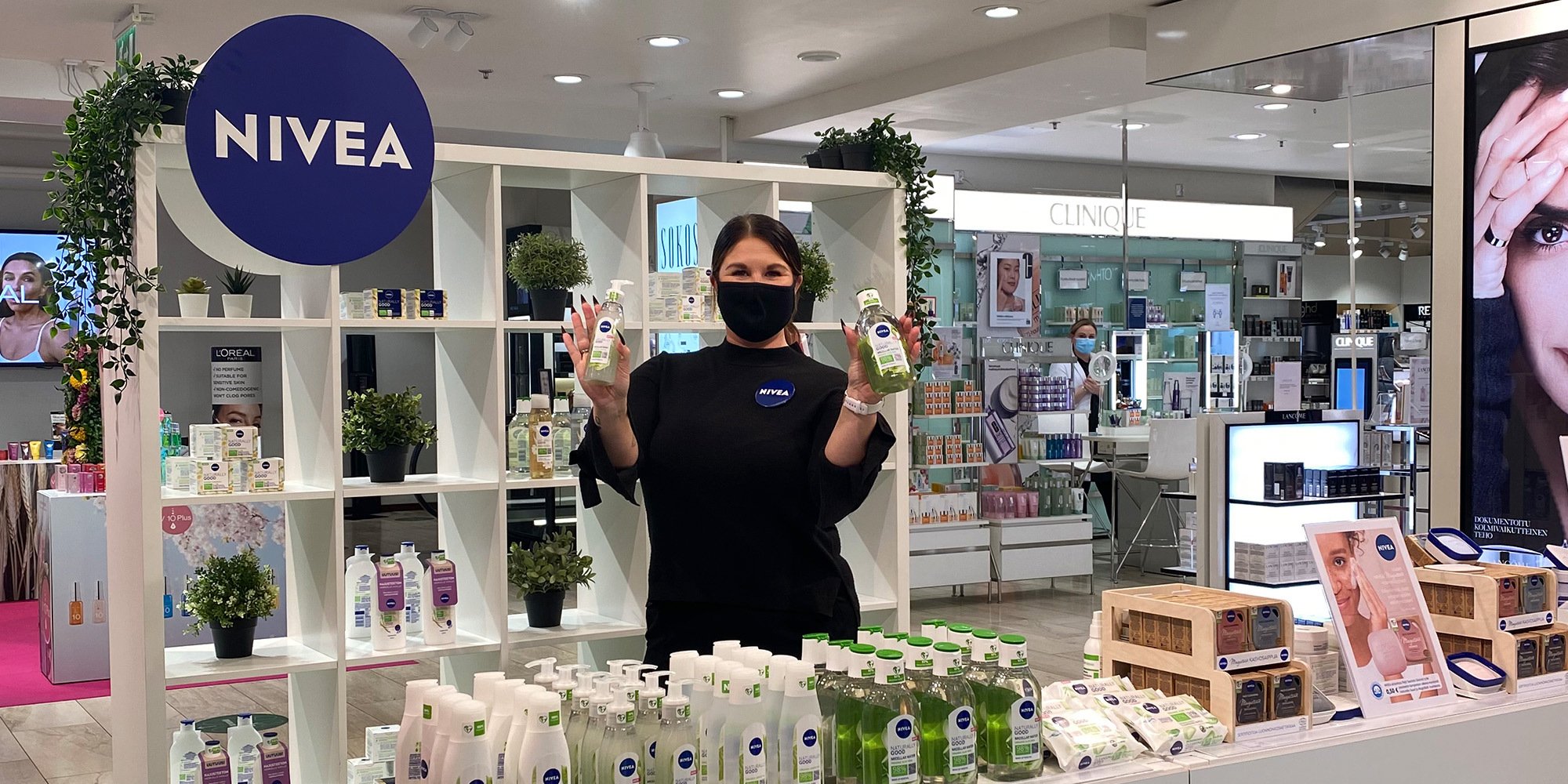 NIVEA is one of the most well-known and trusted cosmetic brands in the world with their over 130 years of history in the industry. Behind Nivea is Beiersdorf AG, a group with a turnover of almost 6 billion euros. In Finland, Nivea is sold in department stores and supermarkets, and some of the brand's products can often be found even in the smallest grocery stores.
The long cooperation between Nivea and WaveCrest has included hundreds of hours of sales promotion, display set ups and other sales supportive activities. The collaboration started at the end of the 00s with the distribution of product samples in cinemas and has continued since then with many different implementations.
WAVECREST's COsMETICS PROMOTERS WORK CONSTANTLY AT SOKOS DEPARTMENT STORES
The cosmetics industry is highly competitive therefore a lot of sales assistants and consultants are used to increase sales and brand engagement. Presentation of the products is also very important to get the brand to stand our from the competitors.
WaveCrest's cosmetics experts work as Nivea's sales promoters and permanent brand ambassadors at Sokos department stores in Tampere, Kuopio and Helsinki on a weekly basis. They are very committed to their work and have passion for cosmetics and customer service.

With their long experience, the sales promoters know the stores and their staff and customers very well. Their task is primarily to present and sell products while serving customers, but also to take care of the displays of the POS materials and the adequacy of the products for sale. The sales of each sales shift are reported, and the reports are reviewed weekly.


TRAININGS AND DISPLAY BUILDING IN over 80 retail stores

WaveCrest's team has also helped Nivea with display set ups with large volumes during 2016-2017. In those years, WaveCrest employed several sales and sales promoters dedicated to Nivea, who made sure that everything was in order and had enough products at the points of sale, and they built campaign presentations.
Employee training is critically important in sales promotion and WaveCrest has trained Nivea team members regularly together with Beiersdorf and has also held its own sales trainings for Nivea sales promoters.
The permanent sales assistants are already such competent Nivea experts that they have also been used as trainers when Beiersdorf organizes annual sales training for sellers in the cosmetic departments of retail stores. WaveCrest has also helped with booking training facilities and catering in different locations.
During pandemic WaveCrest helped Nivea to organize trainings virtually. WaveCrest and Beiersdorf teams defined together what the goals are for the training and what added value they want it to produce. The training was recorded on video and the learning of the sales people who watched it was monitored with questions. The virtual training received a lot of positive feedback.
INTERESTED TO HEAR MORE?
Please feel free to book a meeting to discuss further how WaveCrest could help your brand to interact and engage with customers.