Huawei
A Free Concert for The Honor View 20 Launch
When HONOR launched their View 20 phone back in 2019, they wanted to do so with a bang. WaveCrest created a free event to the main target group, facilitating encounters and creating unforgettable brand experiences.
Huawei's HONOR brand is targeted mainly at a young, trendy clientele. At the time when they were launching their View 20 phone, they collaborated with a Finnish artist, Robin Packalen. In addition to commercials, ads and other marketing materials, HONOR got this hugely popular artist to perform at a free concert at Narinkka Square in the center of Helsinki. Before Robin, other artists Lyömättömät, Mouhous and Sini Yasemin took the stage.
WaveCrest was in charge of encounters at this event that gathered 8000 people to the square and was also broadcasted live online. The luckiest few got to attend a meet&greet with Robin at the nearby Scandic hotel. WaveCrest had several roles and responsibilities around the event:
Planning and executing the overall concept
Pre- and post marketing, including booking and managing digital outdoor advertising
Planning and organising a promotion in the Kamppi shopping center before and during the event
All stakeholder relations, including artists and the meet&greet
Booking and overseeing the event tech (stage, sound, lights) with event partner Bright Finland
Collaboration with stores selling Huawei phones and their chain management
Production of related POS materials and their logistics into stores
Coordinating the partner network for the event, including the telecommunications company Elisa
Planning and executing samplings with a promotion stand for an FMCG partner
Creating and managing content for the related social media channels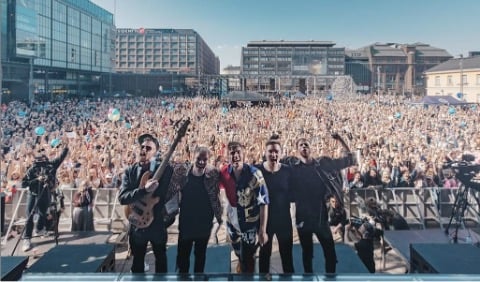 An unforgettable launch event
The launch event was a huge success both on-site and online. This aftermovie by Heikki Salonen perfectly captures the mood of the event on a sunny Saturday in April.
How would you like to have people this thankful to your brand? If you want to create an unforgettable experience for your target group, we can certainly help!