Multi-purpose video production saves time and costs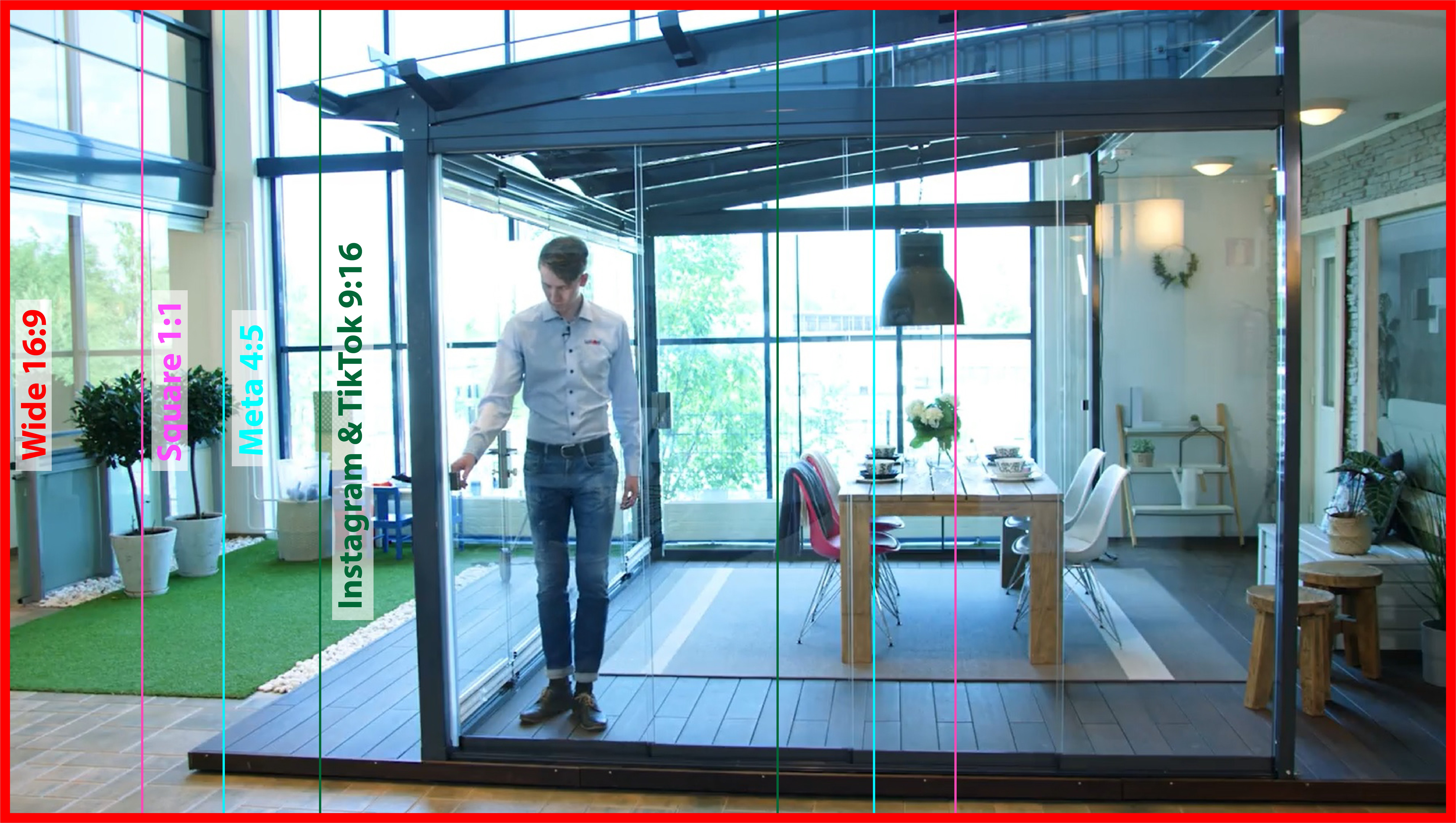 WaveCrest, together with its video production partners, has developed a video/image production model that uses a single shot to produce material for different aspect ratios. This model reduces shooting time and saves production costs.
When video/image production is carefully planned, the same material can be used in all the aspect ratios required. When different versions of the footage can be cropped and cut, there is no need to shoot the same situation several times. This is a particularly important advantage in video production, where it is often possible to identify the so-called best shot. There are also, of course, situations where the same scene cannot even be shot more than once, for example because of one-off props or set design. In such cases, it is particularly important that the unique situation can be used in all the desired channels.
CAREFUL PRE-PRODUCTION SAVES TIME AT OTHER STAGES
There are three stages in the production of images and videos: pre-production, production and post-production. Experience has shown that time spent on pre-production and planning saves significant time in later stages.

In the pre-production phase, you need to define exactly what you are shooting, what you want the image to show, and where to place people and/or other important elements. Producing different aspect ratios in a single shot does not mean that the subject has to be in the centre of the image. It is advisable to sketch out the angles and layout of the images at least verbally beforehand. Perfect storyboards are not always necessary, but sometimes they are justified.

The production phase is often the most labour-intensive, with even small shoots often involving dozens of people. Careful pre-production saves time and money where minutes are most precious: production. To shoot multi-purpose footage at once, the camera's auxiliary options are set up in advance to display the required formats. This way you are never left guessing about which aspect ratios the footage can be used in.

Post-production is easier and faster thanks to good planning and fewer files. Colour specifications can be made in a single image file, rather than having to be repeated in different format versions. The aspect ratio guide lines set during shooting are also carried over to the editing phase, allowing you to directly take the exact cropping you want from your videos and images.
THE BENEFITS OF A MULTI-PURPOSE VIDEO PRODUCTION MODEL
With one-off production, you get access to a high-quality image or video with different aspect ratios and other versions.
The proven and efficient model can be used to produce brand videos, product videos, brand advertisements, launch materials, training materials for internal or external use, video pods, etc.
Once produced, the material can be used in different channels.
You can always use the best take, whatever the format.
A cost-effective model that saves working hours, especially where the most staff is needed: on production days.
As marketing professionals, WaveCrest's experts know what kind of content works for different channels at any given time.
WaveCrest takes care of implementation on a turnkey basis, saving the client company the need to spend its own time on production.
If we can help you get the most out of your videos, don't hesitate to contact us! A free consultation is a great way to start.