Harva and Danish WaveCrest form one of the largest retail agencies in the Europe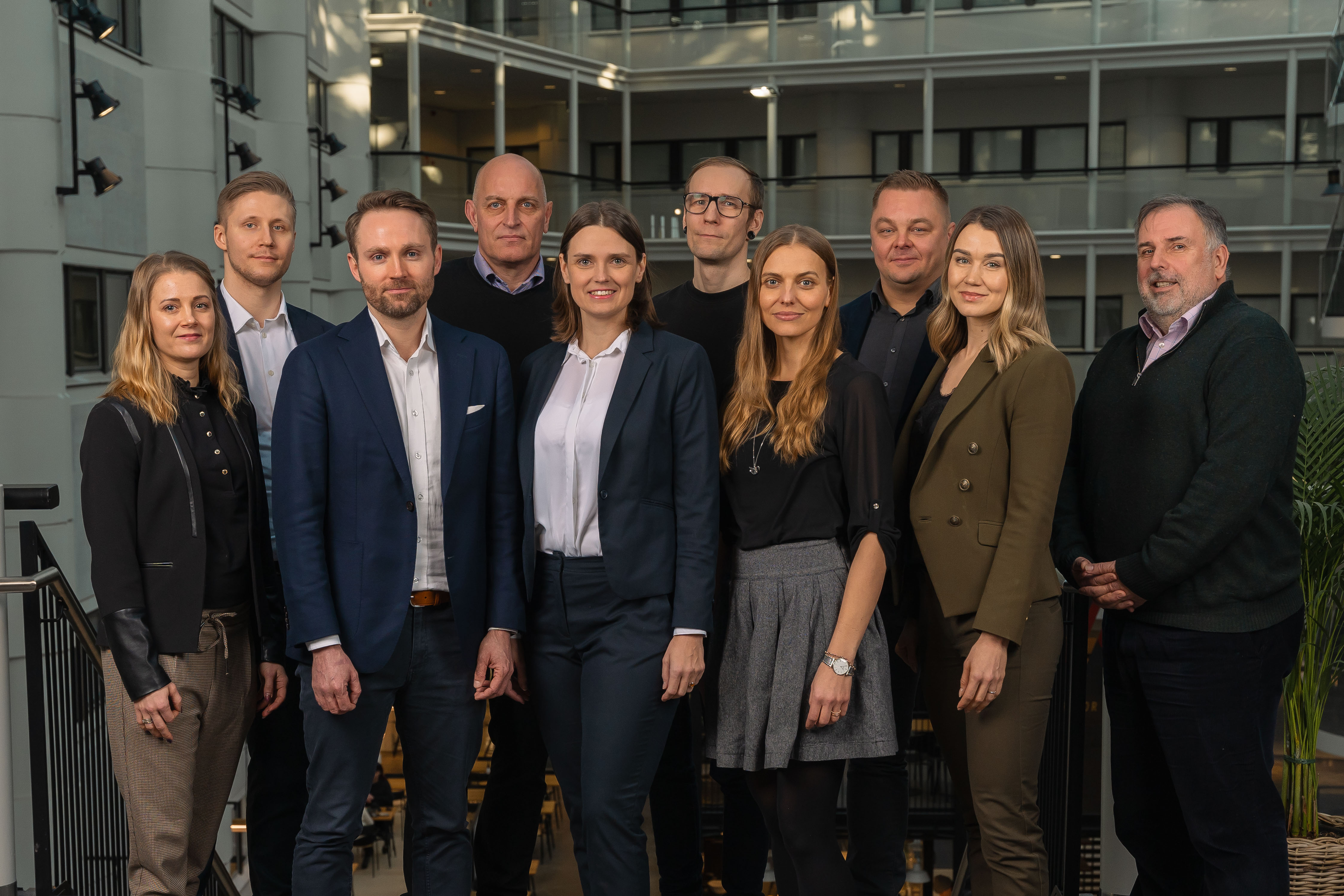 The Danish WaveCrest and the Finnish Harva Marketing Oy merge. The consortium will form one of the largest retail marketing agencies in the Nordic countries. With the merger, Harva will focus on two business areas: digital marketing expertise and a comprehensive retail offering.
Scroll down for Finnish!
Marketing agency Harva Marketing Oy was founded in 2016 by merging three Finnish marketing agencies. In 2021, Harva Marketing acquired Sunnyone Promotion Oy. The underlying idea of Harva has been to provide comprehensive marketing services from a single door, and the agency has provided its clients with digital marketing, event marketing and sales promotion.
WaveCrest was founded in November 2020 through the merger of the two of the largest retail agencies in Denmark, Brandiators and Gorm Larsen Nordic. The Danish company operates in Denmark, Norway, Sweden and Finland, but a stronger local presence in the Finnish market has been in their plans.
We surveyed all Finnish agencies and wanted Harva as our partner.
- Sune Nielsen, CEO of WaveCrest
On their side, Harva Marketing had been contemplating for a long time how to answer the growing demand from international customers to work with a single agency in all Nordic countries. Former loose cooperation with various actors had not been a sufficient solution. WaveCrest's call in late summer 2021 came at a perfect time
WaveCrest's proposal was interesting because they wanted a genuine partnership. In addition, our expertise in the non-retail market place was also seen as a real strength. We would not have been interested if it had only been a matter of acquisition.
- Tero Ylönen, Harva Marketing's Chairman of the Board
The service offering will be significantly strengthened, and the company will remain the same
Harva Marketing is owned by nine of its employees, WaveCrest is owned by Sune Nielsen, who previously piloted Brandiators, and Jens Brinck, former CEO of Gorm Larsen. With the acquisition, Harva's owners will become co-owners of WaveCrest.
WaveCrest's and Harva's customers will have access to a significantly strengthened and expanded service offering.
In addition to face-to-face sales promotion, Harva has strong expertise e.g in branding, creative design and content marketing. We have been a HubSpot partner since 2016. All this expertise is needed in the modern retail world.
- Päivi Lehtonen, Harva's Director of Sales and Marketing
In addition to strong retail expertise, WaveCrest has several innovative digital services: the retail platform SaleMate, the e-commerce optimization tool Digital Shelf, and the online sales support tool Virtual Shop Assistant. A strong and modern sales and marketing services portfolio is one of the key strengths of the merger.
Harva's and Tessa's brands will be merged with WaveCrest, but there will be no legal changes at this time. Sunnyone Promotion will continue as a subsidiary of the group with it's own brand. The day-to-day management of the operations in Finland will not change and all employees of Harva Marketing and its subsidiaries, as well as WaveCrest, will continue to be employed by the companies.
Please contact us for more information
Päivi Lehtonen
Country lead of Finland
+358 44 328 8200


Sune Nielsen
CEO, WaveCrest
+45 25 35 70 58​
Tanskalainen WaveCrest ja suomalainen Harva Marketing Oy tytäryhtiöineen yhdistyvät. Yhteenliittymästä syntyy yksi Pohjoismaiden suurimmista retail marketing -toimistoista eli jälleenmyyntikanaviin erikoistuneista markkinointitoimistoista. Yhdistymisen myötä Harva keskittyy jatkossa kahteen liiketoiminta-alueeseen: kokonaisvaltaiseen retail-tarjoamaan sekä digitaalisen markkinoinnin asiantuntijapalveluihin.


Markkinointitoimisto Harva Marketing Oy perustettiin vuonna 2016 yhdistämällä kolme suomalaista markkinointitoimistoa, mukaan lukien Tessa esittely- ja toimialapalvelu Oy. Vuonna 2021 mukaan Harvan tytäryhtiöksi liittyi promootiotoimisto Sunnyone Promotion Oy. Harvan kantavana ajatuksena on ollut tarjota kokonaisvaltaisia markkinointipalveluita yhdeltä luukulta, ja toimisto onkin tarjonnut asiakkailleen digitaalista markkinointia, tapahtumamarkkinointia ja myynninedistämistä.
WaveCrest syntyi marraskuussa 2020 Tanskan kahden suurimman retail-toimiston, Brandiatorsin ja Gorm Larsen Nordicin, yhdistyessä. Tanskalaiset ovat tulleet tutuiksi myös suomalaisella jälleenmyyntikentällä, mutta vahvempi lokaalius Suomen erityisellä markkinalla on ollut heidän toiveissaan pitkään.
Kartoitimme kaikki suomalaiset toimijat ja halusimme kumppaniksemme nimenomaan Harvan.
- WaveCrestin toimitusjohtaja Sune Nielsen
Harvalla puolestaan oli pitkään mietitty, miten vastata yhä useammin vastaan tulevaan tilanteeseen, jossa kansainväliset asiakkaat hakevat kaikissa Pohjoismaissa operoivaa toimistoa. Aiemmat löyhät yhteistyöt eri toimijoiden kanssa eivät ole olleet riittävä ratkaisu. WaveCrestin yhteydenotto loppukesästä 2021 tuli kuin tilauksesta.
WaveCrestin ehdotus oli kiinnostava, koska he halusivat aidosti kumppanoitua. Lisäksi osaamisemme myös muulla kuin retail-puolella nähtiin vahvuutena. Emme olisi olleet kiinnostuneita, jos kyse olisi ollut vain yritysostosta.
- Harvan hallituksen puheenjohtaja Tero Ylönen
Palvelutarjonta vahvistuu merkittävästi, yritys säilyy entisellään
Harva Marketing on työntekijöistään yhdeksän omistama, WaveCrestin omistavat Brandiatorsia aiemmin luotsannut Sune Nielsen ja Gorm Larsenin aiempi toimitusjohtaja Jens Brinck. Kaupan myötä Harvan omistajista tulee WaveCrestin osaomistajia.
WaveCrestin ja Harvan asiakkaat saavat ulottuvilleen merkittävästi vahvistuneen ja laajentuneen palvelutarjonnan.
Harvalla on face-to-face -myynninedistämisen lisäksi vahvaa osaamista mm. brändäämisessä, luovassa suunnittelussa sekä sisältömarkkinoinnissa, jonka saralla olemme olleet HubSpotin kumppani vuodesta 2016. Näitä osaamisia tarvitaan modernissa retail-maailmassa.
- Harvan myynti- ja markkinointijohtaja Päivi Lehtonen
Vahvan vähittäiskaupan osaamisen lisäksi WaveCrestillä on useita innovatiivisia digitaalisia palveluita: vähittäiskaupan alusta SaleMate, verkkokaupan optimointityökalu Digital Shelf ja verkkomyynnin tukityökalu Virtual Shop Assistant. Vahva ja moderni myynti- ja markkinointipalveluportfolio on yksi yhdistymisen tärkeimmistä vahvuuksista.
Harvan, Tessan ja Sunnyonen brändit yhdistyvät yhdeksi WaveCrestiksi Suomessa. Suomen liiketoimintojen päivittäinen johto säilyy ennallaan ja kaikki Harva Marketingin ja sen tytäryhtiöiden sekä WaveCrestin työntekijät jatkavat yhtiöiden palveluksessa.
Harva + WaveCrest management, from left to right:
Johanna Hirvensalo, Jani-Petteri Soininen, Sune Nielsen, Jens Brinck, Päivi Lehtonen, Ville Teikko, Päivi Salminen, Tero Ylönen, Ilona Kymäläinen, Phil Cottier
Missing from the photo, two of Harva's owners:
Sanni Kaikkonen, Tero Mäkinen